by Kristin (Schaefer) Mazanowski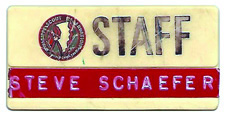 At the closing banquet ending the 2017 Owasippe camping season, eighteen staff persons were each awarded a $400 check from the Steve Schaefer Scholarship Fund. Many of you may have known Steve or his family, but most of you probably do not know the fund exists, let alone the story behind it. It's an important one to share so that Steve's legacy can carry on with your support. Steve spent much of his childhood at Owasippe. He was a Gray Staff Village kid in the early 70s, a Scout with Chicago Troop 978 a few years later, CIT of the year in 1983 and on the Blackhawk aquatics staff from '84-86. Steve was fun and hard-working, making him well-liked by Scouts and staff alike.
Steve's life ended tragically his sophomore year in college when the house where he lived at Southern Illinois University broke out in fire. Before succumbing to smoke inhalation, witnesses on the scene credit Steve with saving his friends' lives by waking them up throughout the house. Steve was the only person to perish in the fire. The National BSA recognized his bravery by posthumously awarding Steve the "Golden Palms" award, and the plaque is now displayed in the Owasippe Museum.
In the midst of their grief, Steve's parents wanted to honor his memory, and knew his love for Owasippe was his legacy. Bill and Linda Schaefer understood that college students often could not afford to work at camp, but they also knew that experienced college-age students were essential leaders in a successful program. Since the Steve Schaefer Memorial Scholarship was started in 1990 over $110,000 has been awarded every year to hardworking staff enrolled in college to help them pay for school expenses.
We need your help!
The members of the OSA have been essential in supporting Steve's fund, and we want to continue this tradition well into the future. To help, go to Owasippe.com, choose the "Ways to Help" tab, click "Donate" and specify the Steve Schaefer Scholarship Fund to make your tax deductible donation.
Thank you to all of this year's scholarship recipients for your service at Owasippe this summer. We wish you continued success in college, and we want to see you back as leaders on staff next year!